Special Offers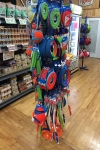 We're not meteorologists but were still sorry they misguided you!
Quick Contact & Hours
Mon - Thu
8:00 am - 6:00 pm
Events
Store Events!
Check back regularly for updated event information!
Expert Articles & Advice
January 1, 2015
When the ground is frozen and covered with snow it may be impossible to work in your garden, but you can still enjoy gardening by working out a plan for what your garden will look like in the new year.